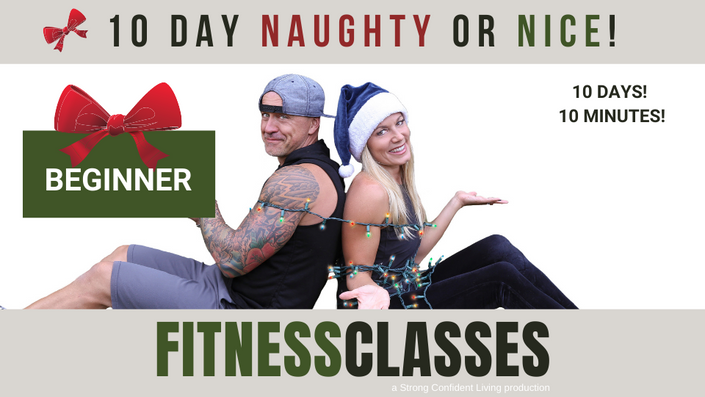 Naughty or Nice 10-Day Fitness Challenge [Beginner]
10 days, 10 minutes a day to keep you on track!
Are you ready to look forward to working out? Laugh, sweat, and be merry with our Naughty or Nice workout series that's 10 minutes a day for 10 days! You can do this!!! Designed specifically for beginners who want the simplest way to get into fitness, build a base of support, and boost self esteem! Laura and Scott will make you feel like a strong confident badass and leave you wanting more! Drop the excuses, be part of the movement and get started!
Your Instructor

What defines Laura and Scott's signature one-two punch? Their energy is contagious, their unique chemistry is hilarious, and you will immediately feel the change! Scott's fitness classes are infused on-purpose with positive self talk that will erase negative thinking, boost electrifying energy, and accelerate you toward your fitness goals. Laura's mindset classes are designed to teach you how to flip your biggest struggles and create the life you imagine. Laura and Scott take the love, knowledge, and wisdom of their 25 years of working together personally and professionally stick to their brand promise: to give you "everything they've got."